Craig Jackson – builder and specialist in roof carpentry

Craig is the Director of Above All Carpentry and Building Services. He is a registered builder and highly experienced in both roof carpentry and fixing carpentry. He has over 20 years of experience in  residential construction in Southern Africa, the UK and Western Australia.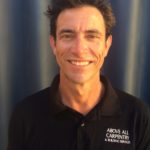 Craig has been doing roof carpentry and renovating and extending residences in Perth for over 10 years. He brings creative flair and quality workmanship to all of his projects. He completes work to schedule and budget. Seamless and effective client liaison are top of the list for Craig.
Craig is often on-site and working on the tools. He is an all-rounder which gives him an excellent grounding as a quality builder.
The Team
We use a network of reliable and quality tradesmen.  We deliver a stress-free building experience from design to completion. Our tradesmen are experienced, professional and used to working with each other.
We aim for high quality and cost effective carpentry and building solutions.
Call us now 0404 990 322